Get £5 OFF at checkout - Pay with
Fever Enchanting Cat Witch Ladies Halloween Fancy Dress Costume
April 12, 2018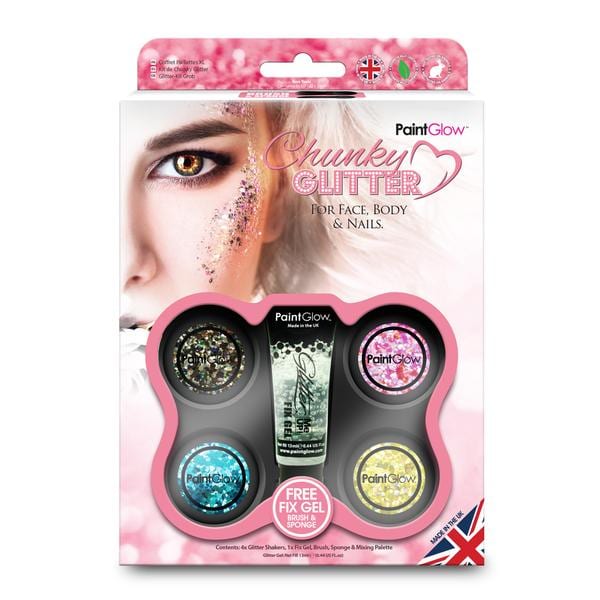 PaintGlow Chunky Cosmetic Glitter Boxset
April 19, 2018
PaintGlow Unicorn Chunky Cosmetic Glitter Boxset
Unicorn Chunky Cosmetic Glitter Boxset contains
4 x 5g Glitter Shaker Pots (total of 20g of cosmetic glitter)
1 x 13ml Fix Gel used to fix the glitter in place
1 x Mixing Palette you can mix your very own shades
1 x Sponge applicator can be used for placement of glitter or for mixing
1 x Brush to apply the glitter mix evenly and precisely without the mess
2 in stock
Get £5 OFF at checkout
Pay with
Description
Unicorn Chunky Cosmetic Glitter Boxset contains
4 x 5g Glitter Shaker Pots (total of 20g of cosmetic glitter)
1 x 13ml Fix Gel used to fix the glitter in place
1 x Mixing Palette you can mix your very own shades
1 x Sponge applicator can be used for placement of glitter or for mixing
1 x Brush to apply the glitter mix evenly and precisely without the mess
Styling…
Stand out from the crowd and wear these as an eyeliner in the evening, under your eyes at festivals, sprinkled onto wet nails and in your hair braids for summer pool parties. Mix our colours together and the possibilities of beauty looks are endless. Our cosmetic glitters are extremely versatile and multi-use. Pop some under the eye as glam glitter tears creating eye-catching effects, or on the cheekbones for a reflecting highlight. In the hair we love it mixed in with braids or painted into a middle parting to create a river of glitter. On the body, dust some on the collarbones and shoulders for a super shimmering look.
FDA COMPLIANT – 100% VEGAN
Additional information
| | |
| --- | --- |
| Weight | 0.02 kg |
| GTIN | 5056176201814 |
Reviews 0
Only logged in customers who have purchased this product may leave a review.